Recall the address of Abotech listed in the Strategis database?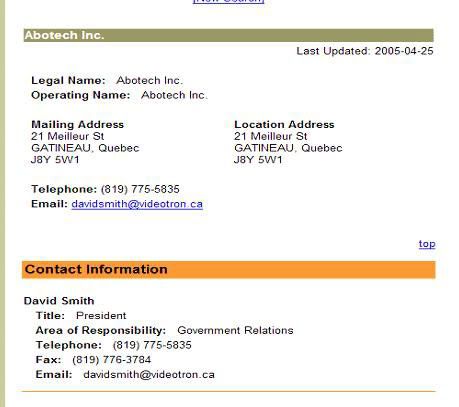 Recall too how I can't find any evidence of this company anywhere on the web? Well, I found a description of the corporate office:

Sounds very pleasant. Note that Hull and Gatineau are the same as far as Mapblast is concerned.
I wonder who lives there?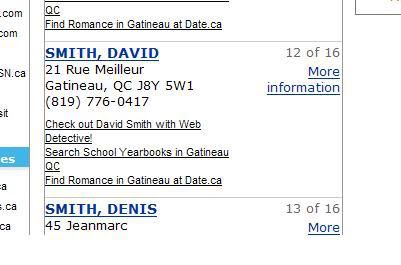 Ah, David Smith lives there. Same phone number as in the property description. It's the family home.
Here is where it is located, near Ottawa: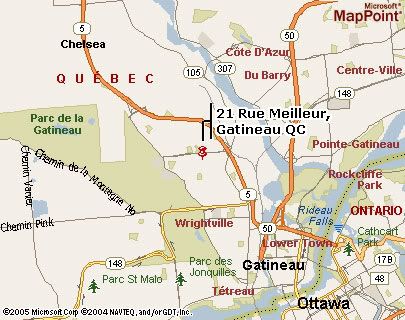 Here is a satellite photo: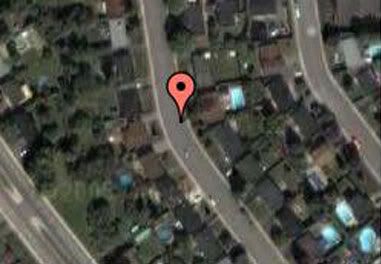 You can see the pool mentioned in the description. Nice to be able to afford a pool. Clearly this is a residential property in a typical Canadian subdivision being used as a place of business for a commercial enterprise pulling in six-figures from government contracts.
So this company, receiving over a million dollars in government contracts over 5 years, is being run out of David Smith's home in Gatineau, by his wife, with his two kids as the other major owners. Can't have many employees, now can it? I mean, where would they work?
Well, maybe they're off-site contractors of some kind. Sure.
And yet David Smith has no idea what is going on? What does his wife do, shove all the papers in a box when he pulls into the driveway?
And now we know how the government knew where to find Abotech. When the government was ready to hand Abotech a plum contract without competition and needed an address, all David Smith had to do was hand over his driver's license.
Now is anyone else wondering just how Abotech got picked for these contracts in the first place?
Check out other entries from the Abotech category
Results will open in a new window.