Via Drudge, this from KXXV:
On Wednesday Qualls found the first cross with his son's name on it and as Qualls says -- he repossessed it. Then he says protesters replaced that cross with a marker which he also removed. Now for a third time he's had to reclaim the cross and Qualls is frustrated.

But protesters say what happened to Qualls is not typical.

The reason Qualls' cross keeps being replaced despite his disapproval- may be because so many new people arrive at Camp Casey daily.
I've written about Gary Qualls and his run in with the people at Camp Casey. The protesters, who say Qualls is not getting typical treatment, are the same protesters who, on their web page, depicted Qualls getting a big hug from Cindy Sheehan (which he did not seem to be enjoying in the least), and made no mention of the controversy over the crosses. The impression left was of another grieving parent joining the ranks of the Sheehanites.
Here's a screen capture of the web page that describes that encounter: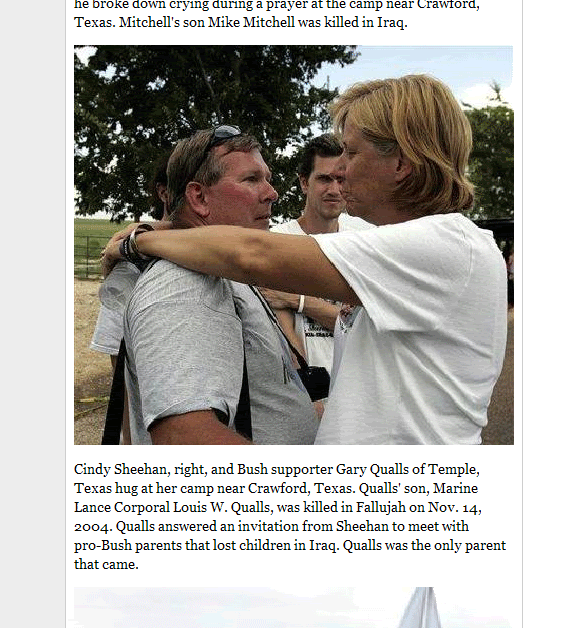 More lies and media manipulation.
The bottom line is that Cindy Sheehan's supporters feel that they have the right to those names, and are not interested in questions of permission, no matter how often it comes up:
Several other parents of fallen soldiers removed crosses from Camp Casey today.
The good news is that it seems like the embargo on bad news reporting from Camp Casey is slowly being lifted. KXXV is an affiliate of ABC.
I have said that all the crosses should come down, and if Cindy Sheehan is so confident in her stand, she should be willing to call up every family and ask for permission to add their names to her display. I know she won't do it. You don't ask a tool for permission before using it.
Gary Qualls doesn't think his dead son in a tool to be used to get Cindy Sheehan's job done, nor any of the other soldiers who have fallen:
Gary Qualls is preparing to build a memorial in Temple that would honor Bell County soldiers killed in combat dating back to World War One. For that project -- Qualls says he will get permission from every fallen soldiers' family.
[Captain Ed also considers the question of exactly who Cindy Sheehan is speaking for.]