(Hat tip to small dead animals)
Take a look at the pre-teen-oriented Firefly cell phone: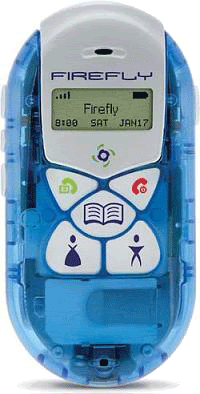 Notice the speed dials for mom and dad? Are you thinking what I'm thinking? What about all those pre-teens with two moms or two dads? How about not forcing these enlightened and cutting-edge family variants to adhere to the heteronormative standards of some uptight corporate VP?
And what's with the skirt icon?! The exact same stick figure should be used for all parental units, regardless of gender or sexual orientation. That's called not being discriminatory.
What should this phone look like for real Canadian children who will be buying them for the next decade? A speed dial for parental unit #1 (stick figure), parental unit #2 (stick figure), parental unit #3 (stick figure), and parental unit #4 (stick figure). Sorry for those with five or more parental units, but sometimes political correctness needs to bow to the constraints of technology -- we can only have so many buttons.
Two speed dials for sex partners (we are talking pre-teens after all). A speed dial for Planned Parenthood.
A speed dial hard-wired to the provincial Human Rights Commission in case anyone gives the kid a hard time.
Oh, and instead of ringing, it should yell "F*ck you!" just like the kids do on buses and in parks for everyone to hear.
OK, I'm done.