Ms. Findlay hasn't had a chance to update her website. Probably still dusting herself off after having been crushed under the joyous press of Liberals welcoming Belinda.
"I understand the challenges facing the people of Newmarket-Aurora. I know what it's like to worry about mortgage payments, about university tuition, about not spending more than you have coming in. I do understand what it takes to balance work, family and community contribution."

"If Belinda and Stephen Harper want to force Canadians into an election now, we're ready for it. We'll be armed with policies that even Belinda acknowledges are good for the people of Newmarket-Aurora."
Ouch, hitting at the silver-spoon thing.
"We need to expect far more of our elected representatives. And the first step is to elect people who will, first and foremost, work hard, with ability, honesty and integrity. We need to focus on substance.
Double ouch -- working hard, integrity, substance.
She has a carload of pictures too. Here's my favourite: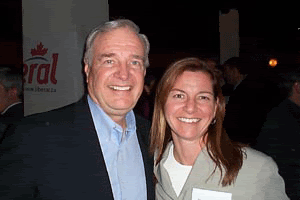 I hope she frames it.
Here's an idea -- why doesn't Ms. Findlay come over to the Conservatives? Check out her resume -- she's a much more formidable woman, on paper anyway, than Belinda:
Martha is a successful, well-respected lawyer, businesswoman and entrepreneur, with extensive experience with both large and small business.


She is fluently bilingual in English and French, with training in several other languages.


She is 45, and has 3 grown children: Katie, 23; Everett, 21 and Patrick, 19.


She is the founder and principal of The General Counsel Group, management and legal consultants since 1997. As a member of The General Counsel Group, Martha has worked primarily in the high-tech and telecommunications fields, in both Canada and Europe.


Prior to forming The General Counsel Group, Martha was:



Vice President, Corporate Development and General Counsel of The Rider Group;


General Counsel and Corporate Secretary for Mobility Canada, Bell Mobility Corporate Counsel;


Lawyer with the international law firm of Baker & McKenzie (in Toronto), practising international corporate and commercial law.





She also co-owned and operated two retail stores while completing law school.


Martha graduated from the University of Toronto's International Relations Programme and then from Osgoode Hall Law School.

In her youth, Martha was a competitive skier, ultimately being named to the Canadian National Training Squad before retiring and pursuing her formal education. Martha supported herself throughout university working as a waitress, in construction (primarily as a carpenter) and coaching young ski racer.
You think Belinda has ever hoisted a hammer?
And they passed over her to make Belinda a cabinet minister?
It's too bad for Ms. Findlay. I've recreated elements of her website here, because I want to preserve a record of what the Liberals are tossing aside, before the Belindanistas come and tear it down.